Physical Therapy
Physical Therapists work with children and their families to assist each child in reaching their maximum potential with motor skills to function independently and to promote active participation in home, school, and community environments.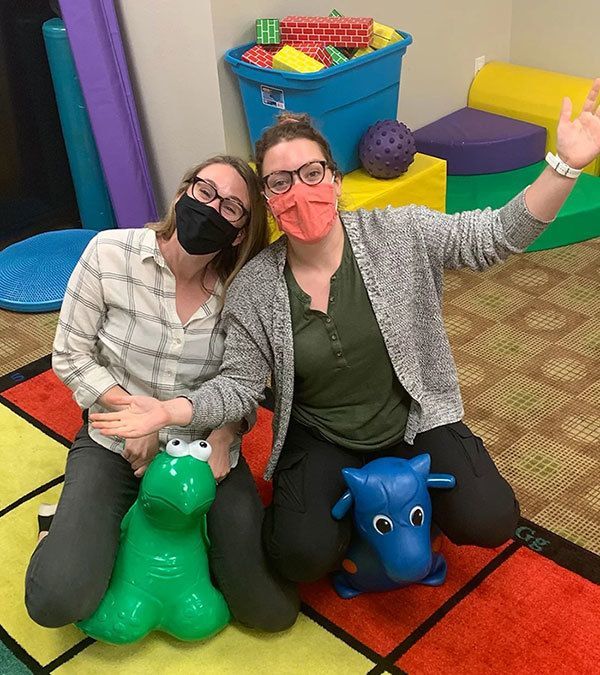 Meet Our PT's
Amy Maddox

Amy is a Physical Therapist who graduated with her DPT (Doctor of Physical Therapy) degree from Eastern Washington University in 2019. She graduated with a BA in Biology from University of San Diego in 2015, where she was also a member of the Women's Rowing team. She grew up in Edmonds, Washington and has lived in Spokane since 2016.

During her time as a student, Amy gained experience working with both children and adults in a variety of settings including inpatient pediatrics, outpatient pediatrics, inpatient rehabilitation, outpatient orthopedics, and early intervention. Amy was drawn to the family-centered approach of early intervention with the birth to three population and is passionate about empowering families to help their children explore their environment and reach their motor goals. In her spare time, Amy enjoys cooking, hiking, and exploring new places with her husband Jake and her dog Zoe.

Kristen Santos

Kristen is a Physical Therapist who received her Doctorate of Physical Therapy from Pacific University in Oregon in 2019. Born and raised in the Bay Area of California, but has lived in Spokane for the last 14 years. She received her Bachelor of Science degree in Exercise Science with a minor in Psychology at Eastern Washington University in 2013. After graduating, she spent 3 years expanding her experience within the physical therapy field and working with children.

She volunteered within the community with adaptive sports for children and completed a service trip to New Zealand working in an integrated school for children with special needs. Through her extensive volunteer and clinical experiences, her passion for pediatrics continued to grow and she gained skills working with children of every age and their families in outpatient orthopedics, early intervention, NICU, and post-NICU follow-up settings.

She loves finding fun and creative ways to best meet the needs of young children and their families and is excited to begin her career as a pediatric therapist at Children FIRST Therapy. Kristen enjoys living an active lifestyle with her husband and dog exploring the Pacific Northwest, spending time at her family cabin on Lake Coeur D' Alene, cooking new recipes, reading, playing and watching sports, going to concerts, and spending time with her close family and friends.